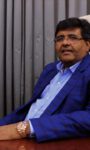 Posted by
admin
on May 31, 2020 in
Business News
|
Comments Off

on RSBL Has World's First Encrypted QR-Coded Gold Coins Says Mr Prithviraj Kothari Managing Director Of RSBL
Gold investments are sacred to most Indians. However, for years now, buyers have been adversely affected by the gush of fakes in the market. With very little known about identifying them, investors have been duped with no recourse. Bringing an end to their plight is RiddiSiddhi Bullions Ltd. (RSBL) through their QR-coded encrypted gold coins – a first in the world. RSBL, India's top bullion brand, has led the modernization of the bullion industry through its various offline and online initiatives. Now, with their encrypted QR-coded minted gold coins, they hope to end the menace of fakes. They have rolled these new RSBL Coins on 17th February 2020 and set yet another benchmark in the global bullion industry.
The new coins will be available in all quantities – from 1 gm. to 100 gms. The primary objective is to bring in more transparency in a market that's flooded with fakes. The gold coins can be bought from the retail outlets, while the B2B buyers can purchase them from the RSBL Spot terminal. Once purchased, all one has to do is scan it under the RSBL Spot app and details like brand, purity and weight will immediately appear on the screen. While the app is available on Google Play and on the Apple Store as well, this feature is currently live for Android users and will soon be live on iOS platforms too. The coins, which come in tamperproof packaging, are a first in the global bullion market with its scannable QR-codes.
Said Mr. Prithviraj Kothari, Managing Director of RSBL "At RSBL, we have our ears to the ground and have been trying to innovate solutions, for many years, for our buyers who have been struggling with the challenge of identifying fake gold coins from original. A lot of methods have been in place, but none of them were foolproof. After a lot of research and trials, we are launching our encrypted QR-coded gold coins, a first in the world. This will provide security not just to buyers but also jewellers who can identify a genuine RSBL gold coin by simply scanning it on the RSBL Spot app. It has never been easier or more fail-safe. We are sure that, like all our earlier digitization initiatives, this too will be embraced with open arms. We are here to help our community and are happy to take the global industry one step forward with our initiative. The response will inspire us to keep innovating and making the bullion market more progressive with every step"
RSBL has led the industry for over 25 years, and even launched India's first and only electronic and over the counter bullion trading system, RSBL SPOT in 2008. Through RSBL eCoins, the company made the entire process of buying and selling gold and platinum coins transparent and simple. The company has won numerous awards for its contribution to the industry. With 3,500+ clients for RSBL Spot Terminal and a solid pan-India presence, RSBL is India's most trusted bullion brand.
With the new QR-coded encrypted gold coins, RSBL has made the bullion industry more accessible to the common buyer under leadership of Mr. Prithviraj Kothari. If you've been thinking of investing in top quality and most trusted gold coins, your search ends with RSBL's newly launched coins. Join the growing community of forward-looking bullion investors that has the power to verify the authenticity of their investment through an app on their phone!
FOR MORE DETAILS VISIT:
Social Media
https://www.facebook.com/RiddiSiddhiBullionsLimited
https://www.linkedin.com/company/riddisiddhi-bullions-limted/about